Squeal Underneath

02-02-2019, 07:51 AM
JK Newbie
Join Date: Feb 2019
Location: elkhart, indiana
Posts: 3
Likes: 0
Recieved 0 Likes on 0 Posts

Squeal Underneath
---
Hi Everyone! I have a 2008 Jk and there is s high pitched squeal coming from underneath that changes with rpm's. It is barely noticeable at idle but will sound when I press the gas pedal. Engaging or disengaging the clutch makes no difference. Moving or sitting still makes no difference. I peaked underneath and saw a bit of smoke coming out near where the crank case is. I know I do have somewhat of an exhaust leak but it is not real new. We just went through a horrible cold spell. Any thoughts? The sound resembles a bearing going bad or s slipping belt. Thanks so much for any help!!

02-02-2019, 08:08 AM
JK Junkie
Join Date: Feb 2012
Location: brick, nj
Posts: 2,827
Likes: 0

---
I recently had a squeal in my 2012. I was 100% sure it was a belt. Nope. Turns out it was the starter going bad. The starter was not fully retracting which allowed some small contact that resulted in the squeal. Other likely culprits to consider are the water pump and idler pulleys.

02-03-2019, 12:37 AM
JK Jedi Master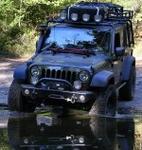 ---

02-05-2019, 01:35 PM
Super Moderator
Join Date: Jun 2011
Location: Hendersonville, Tennessee
Posts: 10,687
Likes: 0